ham, cheese and egg pancakes
Yield 4 stuffed pancakes and two leftover!
Something new and tasty for breakfast for those days when you can't face spooning yet another load of dry as old nick overnight oats into your aching gob.
For the basic pancake batter, we're using the pancake advice from February, namely: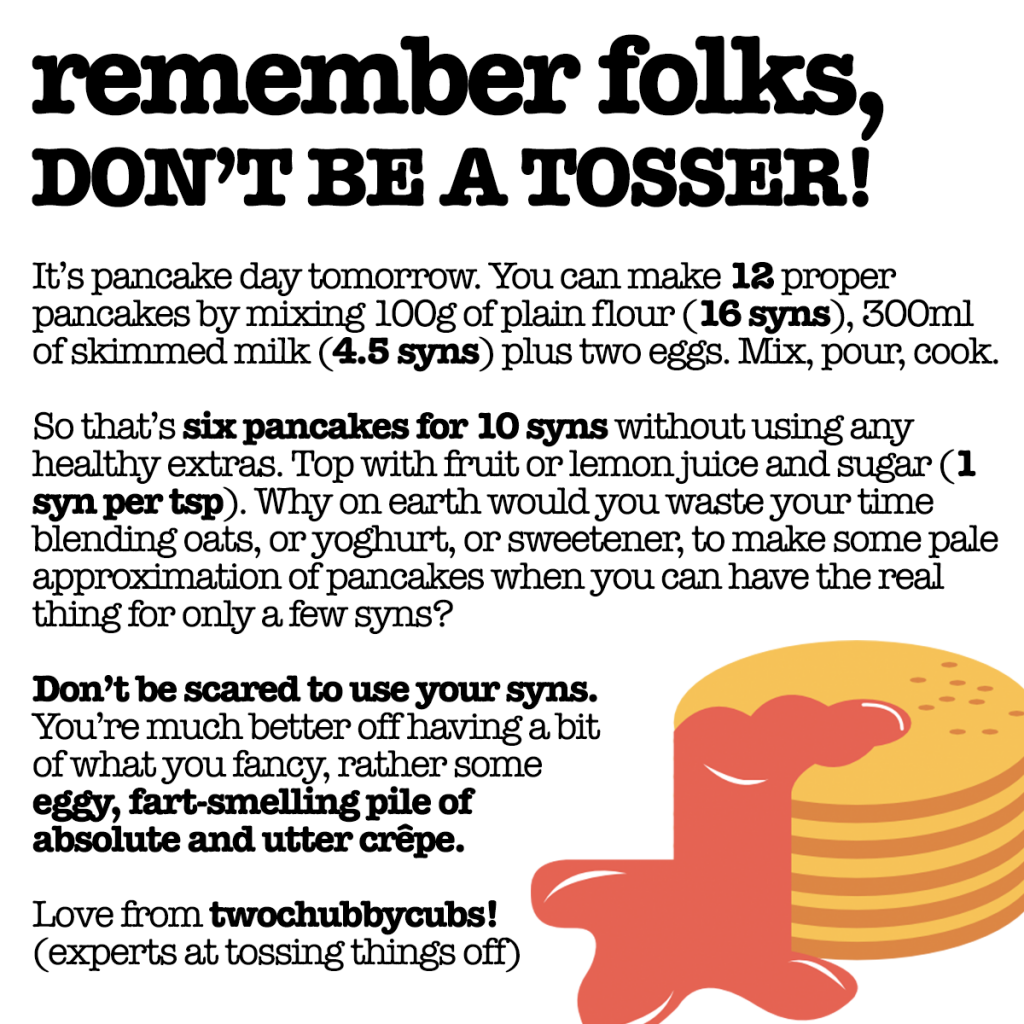 My recipe makes enough for six pancakes - four which will be filled with ham and cheese, and then two extra for gobbling. It's either that or having to mess about with smaller ingredients. Don't be tempted to fart about blending oats or any of that nonsense, there's simply no need. You're so much better have a couple of real pancakes and cracking on. Oh and if you find yourself reaching for a wrap instead of making a pancake, please, throw yourself into the sea.
Ingredients
TO MAKE THE PANCAKES
50g plain flour (8 syns)
150ml of skimmed milk (2 and a quarter syns, but really, 2 syns)
one egg
So that's ten syns for six pancakes. But I'll syn them at 1.5 syns because you can bugger off if you think I'm putting 1.66666666666666 syns per pancake.
FOR THE FILLING
four eggs
whatever ham you fancy
60g extra grated mature cheese (2 x HEA)
chopped chives
So to be clear, you're having two filled pancakes each, and you'll have enough batter leftover for a third if you want to scoff that too!
Instructions
blend all the pancake ingredients together - add a pinch of...a pinch of...bleurgh...a good grinding of pepper, please
now, depending on your skill in the kitchen, you could fry the eggs in one pan and prepare the pancakes in another, but let's assume you've got the cooking skills of a turnip, and go step by step
fry your eggs off - don't cook them into full submission, you still want a bit of give on the yolk so it pops
pop your fried eggs on a plate on the side and start making your pancakes - a couple of sprays of olive oil, nice hot pan, tip a sixth of the batter in and quickly spread it around the pan
once the pancake has 'dried out' and coming away from the pan, flip it over - don't be frightened, you've got spare batter
once it is flipped, layer 15g of cheese in the middle, top with the ham and the fried egg
fold the sides of the pancake over like in the photo and cook for about thirty seconds to melt the cheese a bit
top with chives and eat!
Honestly, it sounds like a faff, but all this recipe is is a pancake stuffed with cheese and ham and egg - if you balls it up, it might not look great, but it'll taste absolutely fine.  Remember, aim for taste, not perfection!
Notes
we whisk up our batter in our Nutribullet - gets rid of any lumps, but honestly, a bowl and a fork will do the same job and get you some Body Magic. Don't buy one just for this - though they are very good!
Courses breakfast
Recipe by twochubbycubs at https://twochubbycubs.com/2018/04/10/ham-cheese-and-egg-pancakes/