proper tasty BBQ veggie burger
Yield 4 burgers
We were going to call these millennial burgers because ho-ho avocado but then we realised we weren't that insufferably tedious, so these are veggie burgers you can do on the BBQ or under the grill. We're not fussed! They look a little dry and to be fair, they are - that's why you use avocado, to grease the wheels and add a different layer of taste! So don't skimp on it - the syns are there to be used AND think of this way, nothing with eyelashes has died to make your burger. You swine!
Ingredients
400g button mushrooms, chopped small
2 tins of butterbeans, drained
2 cloves of garlic, crushed
4 wholemeal rolls (4x HeB)
few handfuls of rocket or lettuce
300g cherry tomatoes, halved
1 avocado, mashed (14 syns)
few drops of lime
few tbsp of our proper tasty coleslaw
Instructions
spray a large saucepan with a little oil and cook the chopped mushrooms until soft and all of the liquid has evaporated
add the butterbeans to the pan and cook for an extra minute or two, stirring frequently
remove from the heat and mash with a potato masher until well mixed
add the garlic and give another mash
divide the mixture into four, roll into balls and then flatten into burger shapes
carefully slide the burgers onto the barbecue and cook for 3-4 minutes each side - avoid turning them more than once as they're quite fragile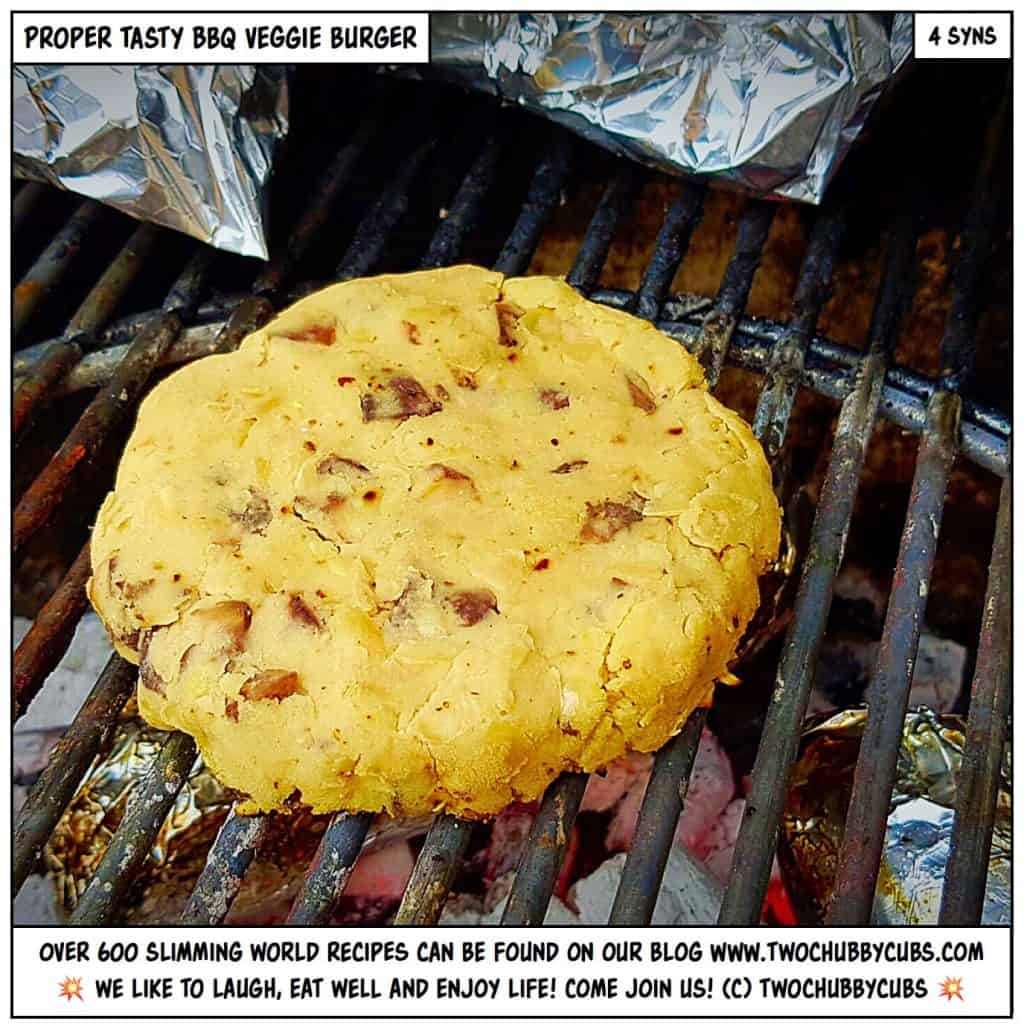 if cooking on the hob, do the same but on a large frying pan over a high heat
assemble the burger by layering cherry tomatoes, salad leaves and coleslaw, then the burger, and then topping with the mashed avocado - add a pinch of salt and some lime juice onto that avocado and then shove it in your big, gaping gob!
Notes
Fry Light is gonna knacker your pans - get one of these instead!
don't shit yourself at the syn value for the avocado - they're really tasty and really good for you!
looking for coleslaw recipe - but natch - click here
chuck whatever else you like in the burger - cheese, fried onions, etc - whatever you want!
mince the garlic in seconds with one of these excellent Microplane graters - no fiddly bits, easy to wash and you can use it for all sorts!
Courses BBQ
Cuisine vegetarian
Recipe by twochubbycubs at https://twochubbycubs.com/2018/06/03/veggie-burger/