For week three, we're going to…the Republic of Ireland!
Listen, I shit you not, that was the third country on the list – we're not just doing easy recipes! Luxembourg is next week. Goodness. Our recipe is perhaps a bit obvious but, no word of a lie, one of the nicest I've ever done on Slimming World – Guinness Pulled Pork with a colcannon rosti and minted peas. But before we get there…
I don't know if anyone watches The Middle but there's a character called Sue who is permanently happy – the very antithesis of me. She conducts an experiment where she smiled at people to see if a smile was as contagious as a yawn. It WASN'T. But, you know, we don't smile enough, so I thought I'd do the same thing – smile at random people as I trundled around M&S before work this morning. Well, fuck me, that whole stereotype of Geordies being a friendly bunch couldn't be further off the mark – at least first thing on a rainy Tuesday morning. At best, most people reacted like they'd seen their own bumhole and didn't care for the colour, at worst I felt like I was at considerable risk of being stabbed in the beck. It doesn't help that I don't have a natural smile, one of those egregious, winning grins that can melt the stoniest of hearts and set gussets aflutter – it's more a lopsided leer that looks like I'm simultaneously dropping off my yoghurt and trying not to fart. No wonder no-one smiled back save for one lady, and she had a better beard than I did.
But isn't that a shame? I love it when people smile heartily at me or engage me in idle chit-chat. Put me in a room where I'm supposed to socialise and I'll stand there like the world's gayest hat-stand, all mute and agog. Stick me next to an old biddy in a bus-stop and I'll be waxing lyrical in no time, revelling in her bawdy tales of bus delays and the minutiae of her family tree. I can chat away to the checkout assistant in a supermarket until the cows come home, are milked, that milk sold for negative value and put back in my trolley for me to go 'OOOH the price of milk' at the cashier. Interestingly, I've had it pointed out that my accent changes depending on who I talk to – I got out of a taxi the other day and it took me about five minutes to stop talking like Jimmy Nail shouting a warning across a quarry. I find that if I'm in a situation where I'm not sure how someone is going to take my sexuality (up the arse, generally), I'll 'man up' the voice a bit – not that I sound like some lisping Monroe-esque harlequin you understand, but because I don't want to be found with my face caved in on an abandoned industrial park. You never know.
The problem with doing this is that it then invites some pretty bleak persiflage between me as a passenger and them as a driver. The last taxi driver I encountered asked me what car I drove – when I answered with 'White, DS3' he immediately dismissed it as a pussy car and told me to get a decent motor to 'attract the lasses'. Because, you know, his Skoda Octavia in syphilis yellow was clearly a clit-magnet. Nothing says sex machine like a beaded seat cover, poorly-masked body odour and Smooth FM playing over the speakers. Moron. Not the worst taxi driver I ever had mind – I once got the offer to 'pay my fare' an alternative way with the altogether more direct result of the taxi driver pulling over two hundred yards from my front door and getting his knob out – I wouldn't have been as offended if there had been miles on the clock but he'd only driven me around the town moor – two miles at best. I'm surprised he'd had time to turn his indicators off. I politely declined – well, as politely as you can when someone offers to effectively pay you £4.40 for oral sex – and threw a fistful of coins at him. Plus, on a purely shallow note, it looked like he had half a smoked cigarette sticking out of his zip. I mean make it worth my while, honestly. It looked like the whistle on an aeroplane lifejacket.
How the hell did we get onto that from smiling at people? Course correction needed! Have a recipe! Guinness pulled pork with Colcannon rosti!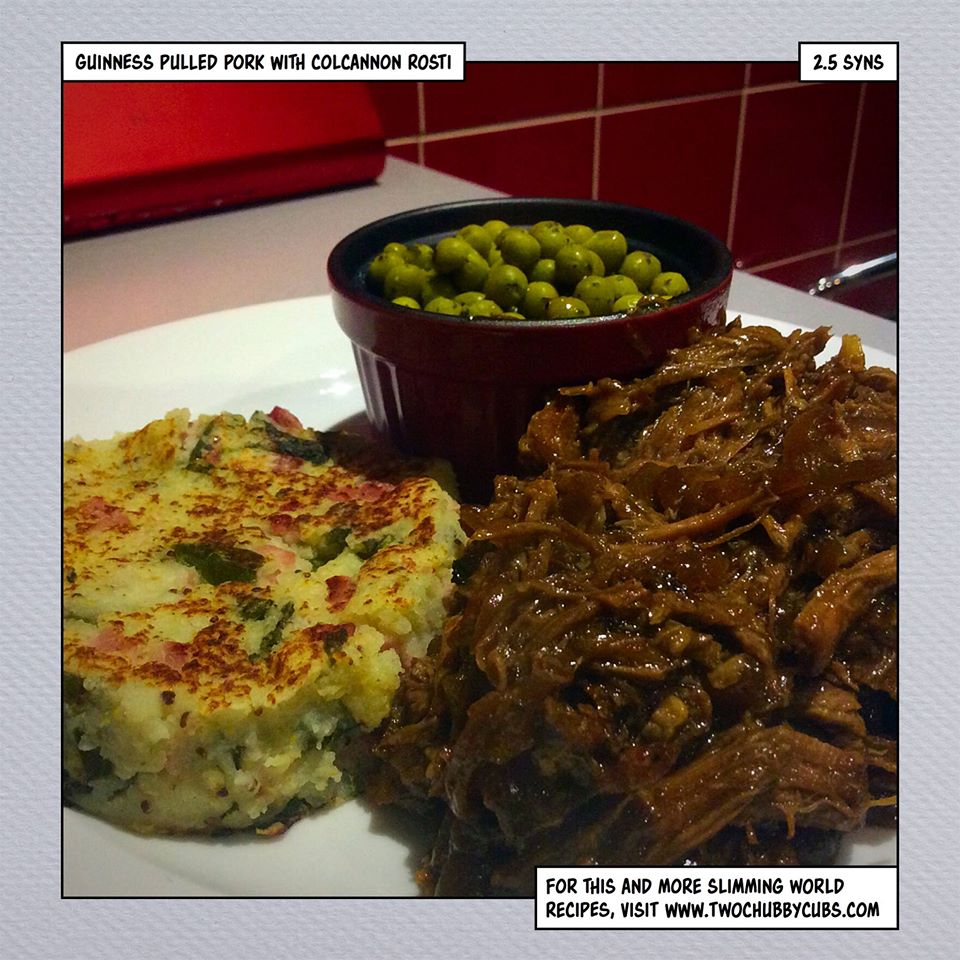 It's going to be easy for me to break this down into the colcannon and the pork one at a time. For the peas, you want a tin of peas and a bit of mint sauce. If you can't figure out how to make those work, then god help us all.
to make the Guinness pulled pork you will need: 
500ml bottle of guinness (9 syns), good hunk of pork (I use shoulder, but take the fat off it – normally enough to serve 6), one big red onion. Make a rub of 1tbsp paprika, 2tsp of salt, 1tsp of garlic powder and 1/2tsp of freshly cracked black pepper. Rub it all over the meat, slice the onion, put the onion into the slow cooker, followed by the Guinness, followed by the lid and cook for 10 hours on low. If, at the end of the cooking, you want to thicken the liquid a little, just sprinkle in an oxo cube and whack it on high for half an hour.
to make the colcannon rosti you will need:
 half a bag of spring greens, 800g of potatoes (peeled, cooked and mashed), bacon with the fat cut off, 200ml of milk (use some of your healthy extra allowance but remember this serves 4 so you're not using much at all), tsp of wholegrain mustard (1/2 syn, but again…between four), bit of oil. Cook the mash, push it through a ricer so it's nice and smooth. Don't have a ricer? Get one here and thank me later.
Leave aside to cool. Boil the spring greens in the milk with some mustard mixed in. Drain when cooked and chop finely. Cook off the bacon in little chunks. Add the potato, cabbage and bacon into one mixing bowl and season very well. Shape into discs and put into a dry NON-STICK frying pan. Cook on both sides for 5 minutes to get a good crust. Serve!
This isn't authentic colcannon – there isn't lots of cream and butter, the creamy taste is achieved by using a ricer, but a good amount of mashing by hand will do the same thing!
There we have it. Not very authentic but fucking tasty and reasonably easy to make. If you can't be arsed making the rostis, just chuck the lot into a pyrex dish and cook in the oven for a bit!
Enjoy, enjoy.
J
Comments
comments